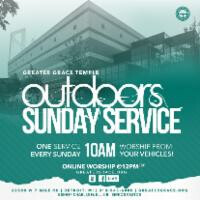 Every Sunday
Join us for Worship
9am EST
10:00am
Sunday Service
City of David Campus (parking lots)
the music of Praise & Worship and the Word brought to us by Bishop Charles H. Ellis III.
This service convene outside the church facility every week and
you will not have to exit your vehicle to participate.
12 Noon EST
Join us for our Sunday worship service streaming
8pm EST
Text GGT to 55469 for updates.
Join our newsletter
here
.
Kids
We have a nursery for babies and toddlers ages 6mos to 4 years
Children's Ministry for those in Kindergarten through 6th Grade
Youth Ministry for High Schoolers
Want to know about what to expect on Sunday? Learn More